Discover Your Path To Corporate Wellness in Cary!
If you're looking to create a memorable team-building experience that also offers practical benefits, the Corporate Wellness Collective is proud to offer curated corporate wellness events that will offer your company the chance to enhance their physical fitness and forge stronger bonds outside of the workspace. Our team of professional instructors can help individuals of any age, ability, or experience level enjoy life to the fullest and glean real insights about teamwork, awareness, and focus. The journey begins right here with the Corporate Wellness Collective.
Just fill out the short form below to learn more!
Top 10 Employee Wellness Consulting/Services Companies - 2019 - CLICK HERE TO LEARN MORE!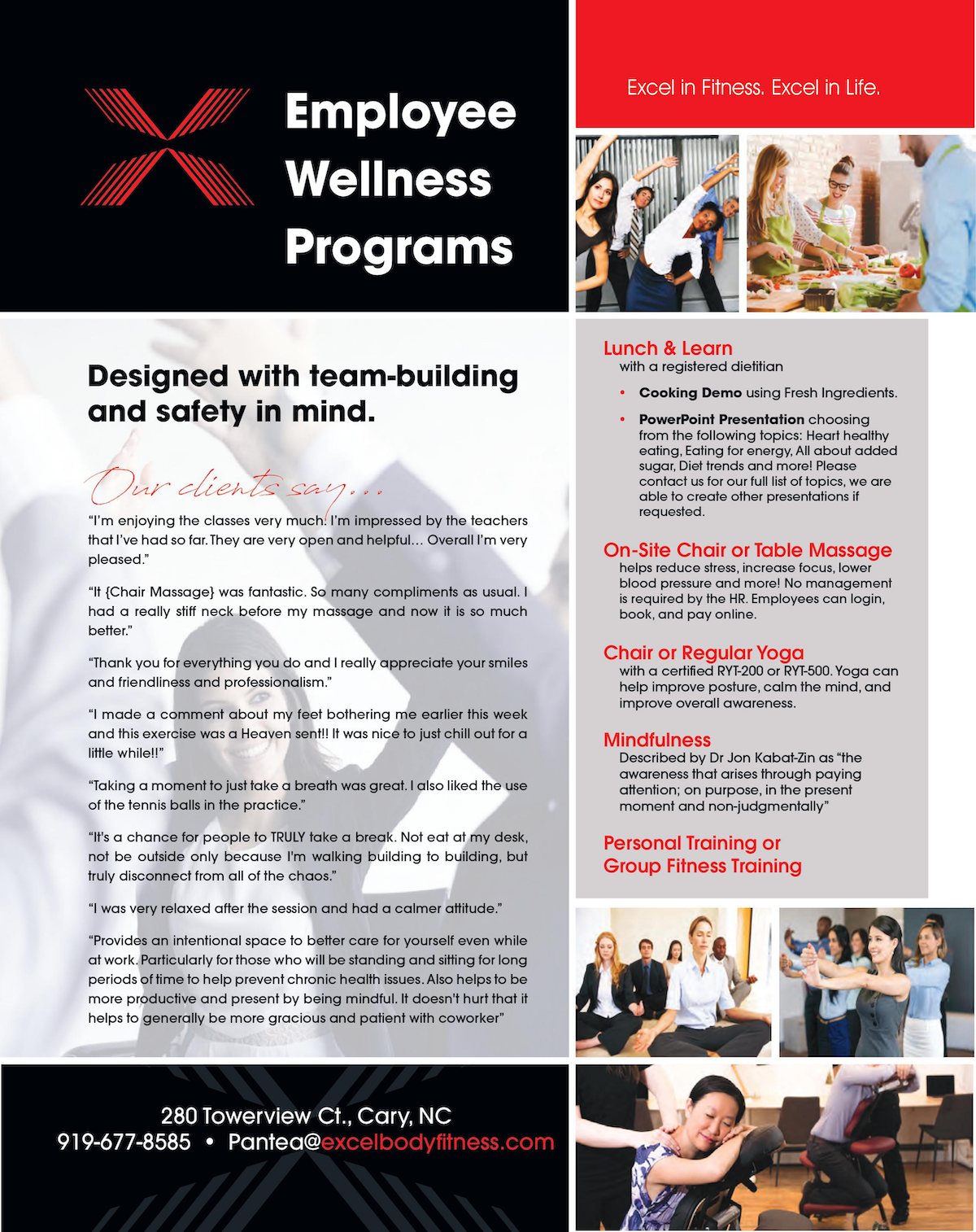 The Corporate Wellness Collective is Useful, Fun, & Unforgettable
Our training will give your team confidence in the workplace, resulting in higher productivity and a more tight-knit corporate community. As they learn and practice together, they'll also gain strong teamwork and leadership skills, understand how to communicate more effectively, and sharpen their strategic thinking ability.
We've already partnered with several corporations, and they're reaping the benefits! Reach out to us and talk to us about your needs, and the Corporate Wellness Collective will create a customized experience that will help your employees achieve greater things at home as well as in the workplace.
Our corporate wellness programs offer A cooperative, structured environment for forging stronger bonds, improving communication and heighten focus & productivity in the workplace.
We offer a variety of options dedicated to your corporation's growth! Visit us for:
Massage Therapy
Reflexology
Yoga Instruction
Sessions on Mindfulness
Sound Bowl Meditation
Nutrition Consultations and Cooking Demos
Zumba
And so much more!
If you're looking for a way to bring your team together, reach out to us at the Corporate Wellness Collective! We can help to create camaraderie and teamwork through our corporate wellness programs!
Join Us In For Unique & Exciting Team-Building!
Our corporate wellness workshops are customizable, offer real benefits, and are led by proven leaders who will be able to take your team's productivity to the next level. Whether you're only interested in a fun, high-energy outing to help your team bond or if you're looking to offer members of your company transferable skills that will carry over into their daily lives, our corporate wellness programs at the Corporate Wellness Collective are personalized and will set you up for success. Stop by our location in Cary, send an email, or give us a call to talk to us about your specific needs.
Or just fill out the short form below to explore corporate wellness!